Home upgrade and energy-retrofit services for low-income communities are often siloed and inefficient. As a result, some of the most vulnerable families are left behind. They may be living in homes that exacerbate asthma and other health conditions and paying high utility bills because of equipment and housing integrity inefficiencies.
That's where Meta's Healthy Homes Connect comes in. Healthy Homes Connect is an innovative community-based program that leverages multiple funding sources to provide energy and healthy home upgrades for some of California's vulnerable homeowners.
In this year alone, the program provided 24 homeowners in the Belle Haven community of Menlo Park with healthy home interventions, electrification measures, and rooftop solar panels so that they can reap the health benefits and cost savings of revitalized all-electric homes.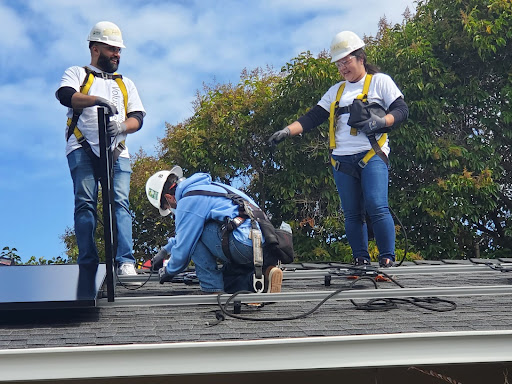 At Build It Green (BIG), we are proud to be part of Healthy Homes Connect because it's exactly the kind of public-private partnership needed to fill funding gaps in the move towards safe, all-electric homes.
As we reflect on our sixth year of Healthy Homes Connect, we have broadened our group of partners to provide comprehensive and holistic interventions. The best part is that we know the benefits are just starting. Already, homeowners feel safer and have better air quality, and that's just the beginning. For decades, they will be able to benefit from a more resilient, local power-source, improved health, and the increased safety and reliability of all-electric homes and appliances.
We are thrilled for the Belle Haven community to gain the long term benefits of electrification. Key metrics from the sixth year of Healthy Homes Connect include:
24 homes served with healthy home interventions;
14 homes with roofing repairs and replacements;
12 homes to have mini-split AC units installed;
12 homes to have heat pump water heaters installed; and
10 homes to have solar arrays installed (provided by GRID Alternatives).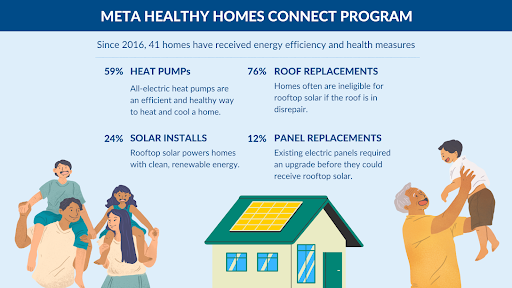 Healthy Homes Connect has been a multi-year effort, and has embodied learning and growing as we go. As we reflect on this past year, below are some of our key takeaways.
Public-private sector partnerships and funding can address critical gaps in the current electrification and weatherization programs. 

Many homes are disqualified from much-needed energy efficiency improvements and solar panel upgrades because of existing conditions in the home, such as mold, moisture, or dilapidated roofs.
Community involvement and feedback is key to designing programs that actually meet residents' needs. Through Healthy Homes Connect, we learned from homeowners and iterated and improved our processes in each year of the program. We know that solutions must be place-based and specific to that community. There isn't a one size fits all approach because regional and community challenges are different.
Start with a core group of partners and grow as you go. The Healthy Homes Connect project started with a core group of install partners, and we brought in more partners over time as new needs arose. For example, when initial home inspections were showing mold in homes, we brought on a mold remediation partner to work with homeowners and safely remove mold so that the electrification work could continue.

The Hayward Score can be scaled as a key tool for identifying unhealthy conditions and a range of solutions in low-income homes.

 A unique element of the Healthy Homes Connect program's success has been the use of the Hayward Score, a patent-pending web-enabled tool built by a group of healthy home industry thought leaders.

It provides an easy-to-use, self-reporting mechanism where homeowners can answer a series of 30 questions in less than 10 minutes.
Homeowners then receive a score (on a scale of 1-100) and a set of recommendations (ranging from the simple and free to the expensive and complex) outlining steps to improve their home's health and safety.
Hayward Score's targeted survey questions and refined algorithms typically achieve the same level of accuracy as expensive indoor air quality testing, which is not affordable for many residents.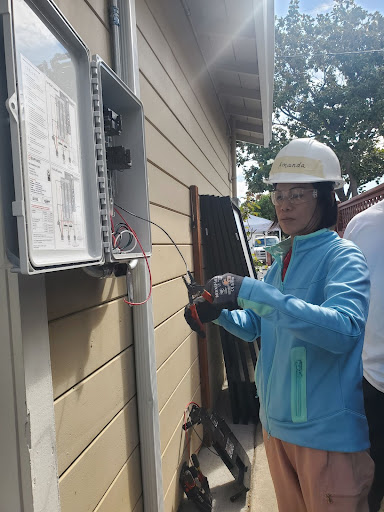 Homeowners face many systemic barriers to electrification. More work is needed to overcome these barriers, so more families can benefit from electrification.

Our experience through the Healthy Homes Connect program revealed many of the barriers that individual homeowners face in the electrification process. These barriers include timeline delays, permitting complications, electrical panel upgrades (which

BIG's POWER group

is working to address), and other issues that result in unforeseen costs and workarounds. These barriers are too much for homeowners to navigate, and we need more streamlined programs and transparent processes to help homeowners in their electrification journey.

The benefits of electrification, weatherization, and home safety interventions are far reaching. The best stories we hear from homeowners are how they feel safer and healthier in their homes. From reduced suffering with asthma and better breathing to peace of mind with lower utility bills and protection from the elements.
Thank you to Healthy Homes Connect funder, Meta, as well as the implementation partners (Franklin Energy, GRID Alternatives, Hayward Score), the installation partners (Central Coast Energy Solutions, Rebuilding Together, Ardon Roofing and Enso Building Solutions) and the residents of the Belle Haven community for supporting this critical initiative.
For more information: To meet some of the Healthy Homes Connect participants from earlier years, check out the following success stories on our website.
Meta builds technologies that help people connect, find communities and grow businesses. We're committed to keeping people safe and making a positive impact. Learn more at https://about.meta.com/company-info/.
Franklin Energy was founded in 1994, has been delivering turnkey energy efficiency and energy management programs across the U.S. and Canada for nearly three decades. Led by a team of industry veterans, our experts are passionate, ambitious, and dedicated to driving real change. We're also committed to growing the energy industry as a whole, which is why we prioritize the creation of green career opportunities and workforce development, especially in traditionally underserved communities. Learn more at https://www.franklinenergy.com/.
GRID Alternatives is a national leader in helping economic and environmental justice communities get clean, affordable renewable energy, transportation, and jobs. GRID envisions a rapid, equitable transition to a world powered by renewable energy that benefits everyone. GRID is also a non-profit organization and proud to have been the partner responsible for designing and installing the solar systems for Meta Healthy Homes Connect. Learn more at https://gridalternatives.org/.
Build It Green (BIG) is a California-based nonprofit dedicated to transforming the California housing system in service of human communities and ecological vitality. We aim to identify great ideas from a diverse and unique array of players in the housing ecosystem and uplift them through cross-sector collaboration to reimagine the way homes and neighborhoods are built, so we can advance equity, housing affordability, and ecological well-being. Learn more at www.builditgreen.org.