Renters Empowered in an Electrified Future
May 24 @ 2:00 pm

-

3:00 pm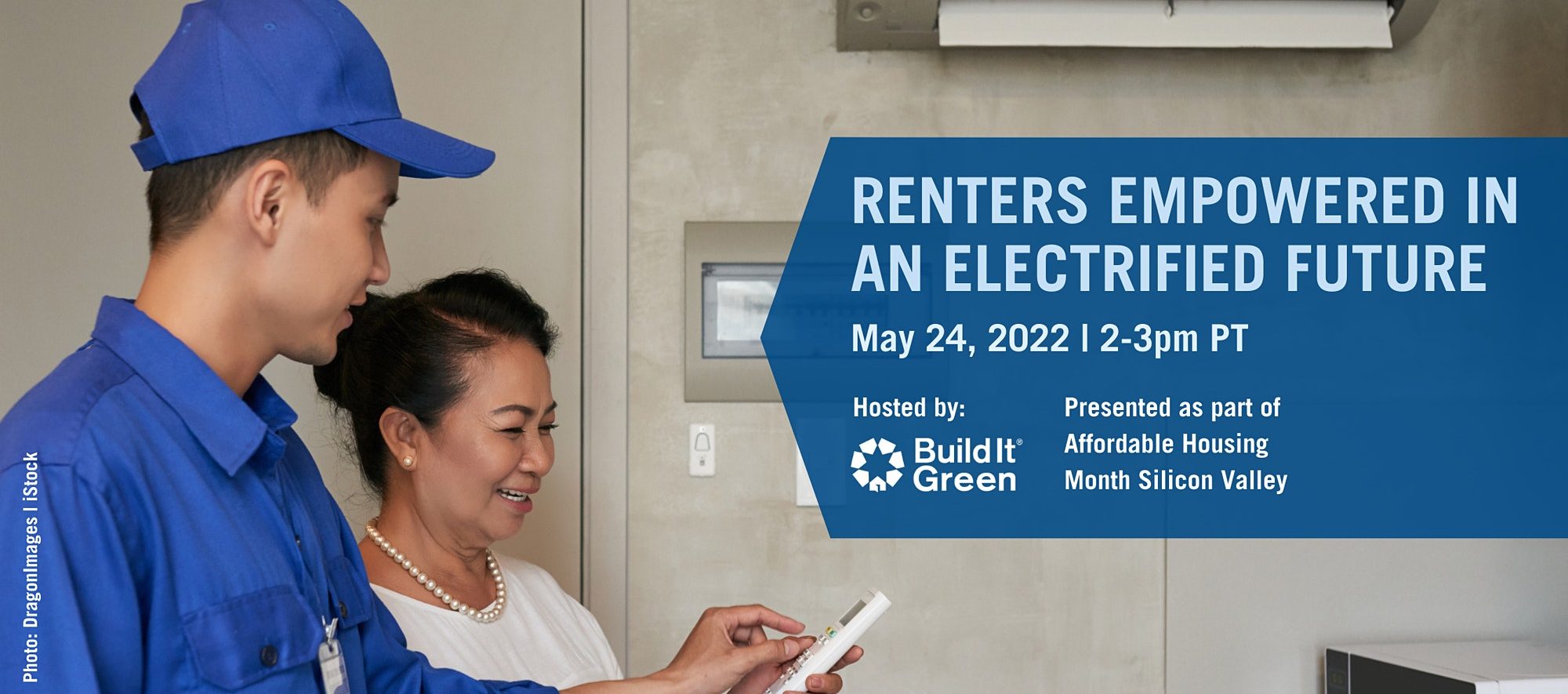 We are thrilled to be hosting an event for Affordable Housing Month Silicon Valley, organized by
[email protected]
! More details below.
Cities across the Bay Area and all of California are rolling out roadmaps to lower their climate impacts and guide us towards an electrified future. But the electrification process can have an outsized impact on renters with low incomes, who already shoulder higher energy cost burdens and worse health outcomes.
Build It Green is bringing together a diverse panel to discuss opportunities for empowering renters and ways that developers, advocates, and policymakers can help. Our panelists will cover a broad range of potential actions—from individual to collective—that can help renters benefit from and have agency in the electrification of their homes. We will also discuss the support systems that need to be built to increase the resilience of renters living in affordable housing in an electrified future.
Please join us for this engaging panel discussion on sharing pathways and building resources to increase the agency of renters living in affordable housing.
Moderator and Panelists
⚡ Farhad Farahmand (Moderator) is an Associate Director of Energy Policy at TRC, where he works to bridge gaps between technical feasibility and real-world application. An important part of this work is meeting with diverse peoples to learn how we can achieve our common energy and climate goals. Farhad has a background in mechanical design and public policy and is also a licensed professional engineer.
⚡ Sean Armstrong (Panelist) is the Managing Principal of Redwood Energy and has worked for 25 years in building electrification, designed the retrofit and new construction of more than 10,000 of all-electric residences for Disadvantaged Populations, co-authored five practical guides to building electrification, provided legal and technical support to dozens of gas bans nation-wide, helped develop the 2016/2019/2022 and 2025 Title 24 California Energy Codes, and has received sustainable design awards from the United Nations, the U.S. Department of Energy and the SoCal Building Industry Association.
⚡ Chelsea Kirk (Panelist) is Assistant Director of Policy and Research for Building, Equity, and Transit at Strategic Actions for a Just Economy. Chelsea's research and policy advocacy aims to improve housing quality for tenants in Los Angeles, and much of her recent work focuses on the effort to produce equitable and effective policy responses to the twin crises of housing and global warming. She authored the report "Los Angeles Building Decarbonization: Tenant Impact and Recommendations", which analyzes the impact greenhouse gas reduction policies may have on the renter population in Los Angeles.
⚡ Ben Cooper (Panelist)has worked in sustainability in the built environment since 2005. As a Program Manager at StopWaste, he is the technical lead for the Bay Area Multifamily Building Enhancement (BAMBE) program, striving to equitably upgrade existing apartment buildings across the Bay Area by increasing energy efficiency, comfort and safety while reducing greenhouse gas emissions. He's currently leading two pilots to connect with and learn from renters and owners of naturally occurring affordable housing (NOAH).
About Build It Green
Build It Green connects changemakers to transform the housing system in service of human and ecological vitality. Learn more at builditgreen.org.