GreenPoint Rated CORE
September 13 @ 8:00 am

-

September 16 @ 12:00 pm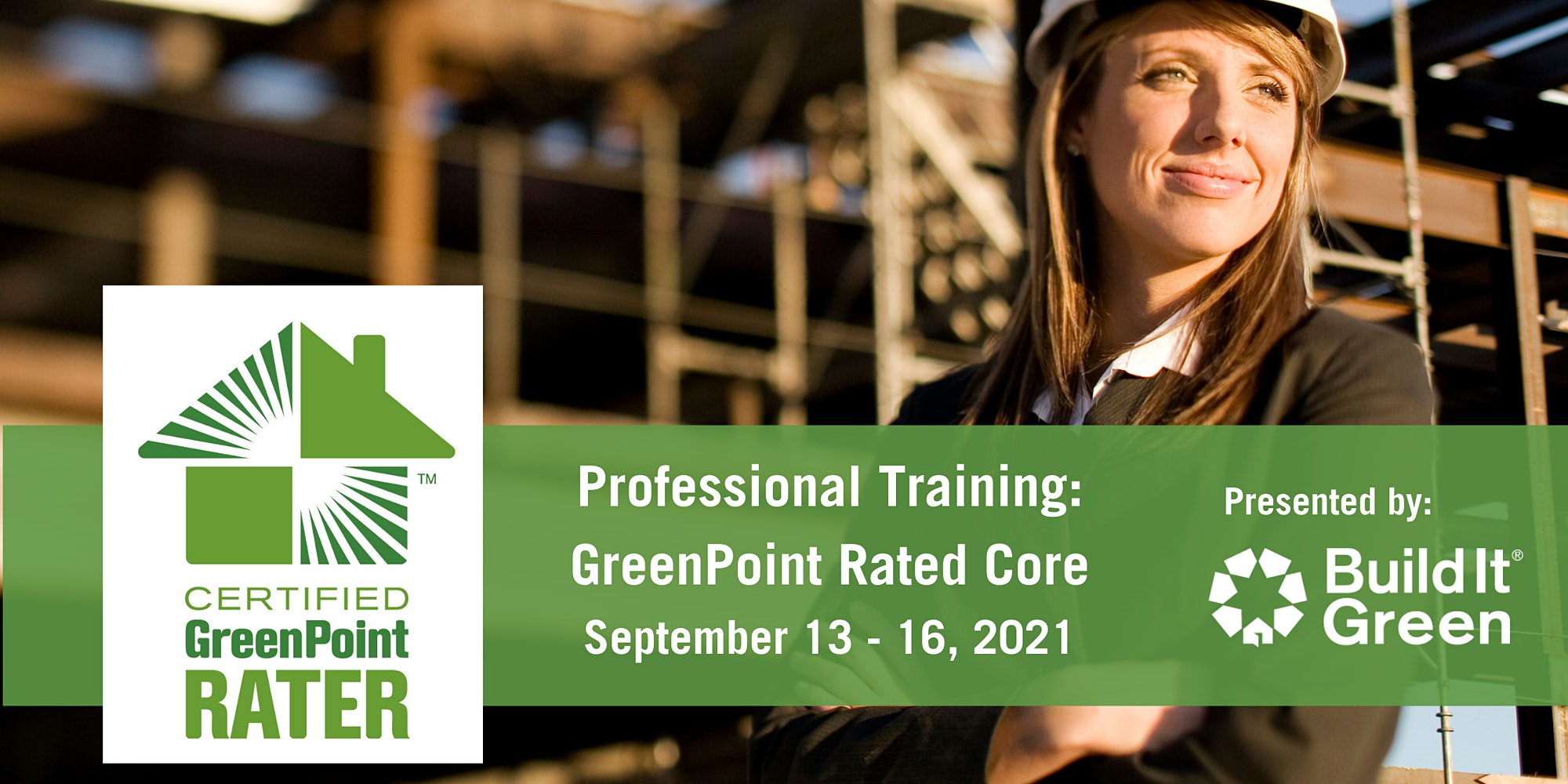 Required for all GreenPoint Rated (GPR) professional tracks, CORE introduces GPR's basic policies, procedures, and verification methods.
Overview
This 20-hour training course introduces you to all GreenPoint Rated systems and includes basic policies and procedures, program requirements, verifications of select measures, and the differing roles of advisors and raters.
Topics covered in this course:
The role of the Rater in the design, construction, and maintenance of green homes.
Verification protocols for core GreenPoint Rated measures, including:
Site and foundation
Outdoor water and resource conservation
High-efficiency equipment and effective systems
Water conserving fixtures, features and equipment
Framing and building envelope practices
The best finishes for resource conservation and improved indoor air quality
Community measures on access and services
Green building plan check review
How to leverage the resources offered by Build It Green and GreenPoint Rated
Format
Training:
Location: Live Streaming Online, Zoom Platform (Link to be provided once registered)
Monday, September 13 | 8AM – 12PM
Tuesday, September 14 | 8AM – 12PM
Wednesday, September 15 | 8AM – 12PM
Thursday, September 16 | 8AM – 12PM
Plan and Field Exam (Virtual):
Thursday, September 16 | 1PM – Monday, September 20| 1PM | Available for 96 hours to complete
Fees and Registration:
Training and Exam: $799
Exam Re-take: $50
Cancellations / Refunds
View Build It Green's Terms and Conditions
Pre-Requisites
Unless you have received an application waiver, you must apply to the GreenPoint Rated Program and receive eligibility verification before registering for this training.
Learn more about the GreenPoint Rated Program, and Apply to become a Rater or Advisor.
You must also pass GreenPoint Rated CORE with 80% or higher to move onto the GreenPoint Rated New Home and/or Existing Home trainings.
Instructor
Marc Richmond has over 30 years of construction industry experience, both as a builder and a green building consultant, and has developed educational green building programs for government agencies, non-profits and private firms. His comprehensive curriculum helps professionals be effective at implementing green practices into their daily work and teaches consumers to make good purchasing decisions.
Marc is energized by a diverse classroom and has a unique talent for helping individuals see the role they serve in spurring market transformation. He specializes in designing green building tools, rating systems, and training programs that are understandable, buildable for professionals, and valued by consumers. His experience as a builder, businessperson, educator, and green building program manager makes him focus on simple solutions that will make the target audience take the actions that are needed.